INEBRIA is an international network of researchers, policy makers, practitioners and other stakeholders interested in the potential of brief interventions in health and other settings to reduce the harms produced by alcohol and other drug use. It aims to provide global leadership in the development, evaluation and implementation of evidence-based practice in the area of early identification and brief intervention for hazardous and harmful substance use.
News and announcements
24/11/2020 Web based consultation on a working document for developing the global alcohol action plan
The Alcohol, Drugs and Addictive Behaviors Unit in WHO has finalized a working document for the development of an action plan (2022-2030) to effectively implement the WHO Global strategy to reduce the harmful use of alcohol. This is done in accordance with our plans for implementation of WHO Executive Board decision EB146 (14):  https://www.who.int/teams/mental-health-and-substance-use/alcohol-drugs-and-addictive-behaviours/alcohol/governance-alcohol/towards-and-action-plan-on-alcohol
We have now moved to the next stage of the process – a web-based consultation on the working document, which is available here: https://web-prod.who.int/publications-detail-redirect/action-plan-to-strengthen-implementation-of-the-global-strategy-to-reduce-the-harmful-use-of-alcohol
The consultation is now open and will remain open until midnight on 6th December 2020.  Member States, governmental and intergovernmental organizations and non-State actors are invited to submit their comments through a dedicated web: https://extranet.who.int/dataformv3/index.php/151298. The consultation is not open to individuals.
The consultation asks one substantive question only:  "We have read the working document for development of an action plan to strengthen implementation of the Global strategy to reduce the harmful use of alcohol and have the following comments and suggestions for consideration:" You will then have the option to either submit the full response online or submit an abstract online and attach the full submission as a pdf or doc file.
The working document is in English only, but responses can be given in any of the six official languages of WHO: English, French, Spanish, Russian, Chinese or Arabic.  All relevant contributions received will be published on WHO`s website. Comments received will be taken into consideration in the process of developing the first draft of the action plan and may inform subsequent stages of the process.
If you have any question, please contact  Dag Rekve, Senior technical officer at WHO, e-mail: rekved@who.int
16/10/2020 – New INEBRIA SIG focused on adolescents/youth
Since the interest generated about the idea of forming a SIG focused on adolescents/youth, Inebria decided to move this idea forward. The aim of this SIG would be to track progress on research and development in the field of screening and brief intervention for alcohol and drugs among adolescents and youth (age range TBD by SIG members), and to review outcomes salient, developmentally appropriate outcomes for this age group.
Regarding the actions planned, will be the following:
to hold meetings, workshops and symposia in appropriate contexts.
to produce presentations and papers on policy and practice in relation to the SIG topic.
to facilitate collaborative research and development as appropriate.
Membership of the group would be open on application to all members of INEBRIA. If you are willing to join, please send an e-mail to Stacy.A.Sterling@kp.org  with copy to inebria@gencat.cat"
13/10/2020 – Slides and videos of the INEBRIA virtual sessions already available at the website
As we have been informing, the 2020 Inebria and the Inebria Latina virtual webinars took place the 24th and the 25th September under the titles 'The times they are a changing'… and how we adapt to them" and "COVID-19 y su impacto en el consumo de alcohol y otras drogas  y sobre la implementación de intervenciones breves en América Latina"
In case you missed the Inebria webinar in English, the slides and the videos are already available in the Inebria website. You will find them in the following link: http://inebria.net/meetings-and-activities/virtual-meeting/international-meeting/
For the Inebria Latina session, you will also find the slides and the recording in the following: https://www.paho.org/es/eventos/covid-19-su-impacto-consumo-alcohol-otras-drogas-sobre-implementacion-intervenciones-breves
30/06/2020 – Inebria virtual event 24th September
We would like to announce that INEBRIA is planning a virtual event to take place on the 24th September from 17h to 19h CEST. It will be structured in two parts: a scientific session with presentations followed by the Annual General Meeting to be able to elect new CC members.
As you know, the conference in Goa has been postponed to 2021 but we did not want to miss the option to meet you using the nowadays indispensable digital platforms. This will be the second attempt for INEBRIA after the streaming event organized in Bangalore, India back in 2017 that worked quite well. This year virtual event is titled "The times they are a changing'… and how we adapt to them" and will cover topics like Covid-19 and its impact on substance use and interventions going virtual. The event will be free of charge for Inebria members and registration will be required for both parts of the event.
More information on the final agenda, registration and the platform link to access the event will be provided in the coming weeks.
10/04/2020 – INEBRIA Conference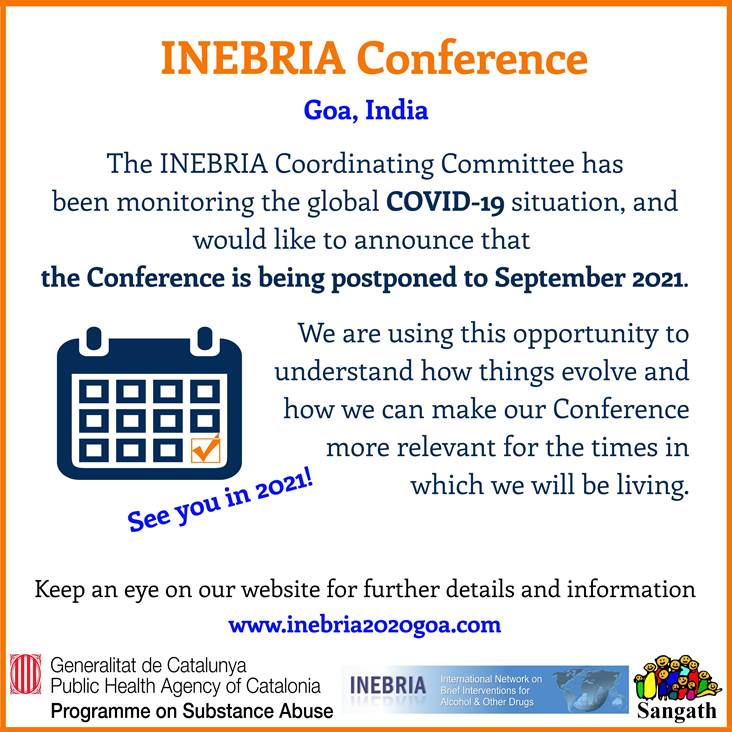 10/03/2020 – Coronavirus (COVID-19) update
Across the world there is understandable uncertainty and anxiety over future plans because of the Coronavirus.  The INEBRIA Organising and Scientific Committees are monitoring the situation, and will decide nearer the time if there needs to be any changes. For the moment, we are planning on the Conference going ahead, and have extended the Abstract submission deadline to 10th April 2020.
You can contact members of the team with queries at inebria2020@sangath.in
08/01/202o -17th Inebria conference: Abstract submission and scholarships
We are pleased to inform you that registration and call for abstract submission just opened. As in previous years, submissions in the form of posters, oral presentations, workshops and symposiums are welcomed but please bear in mind that the call opens and closes earlier (by March 9th) this year to give time for authors to request their VISA.  You can submit your abstract here.
The preliminary scientific program will be available in the coming weeks.
As usual, registration offers reduced fees for LMIC, locals and for INEBRIA members: https://www.inebria2020goa.com/registrations
This year INEBRIA also offers five scholarships to attend the conference for early career professionals with genuine interest in expanding screening and brief interventions in their countries. Candidates should read the instructions and complete the application form available here before the 26th March. The application process for INEBRIA "International" scholarships will be conducted entirely in English and to be eligible for an award, you must have an accepted abstract for the Goa conference and be a member of Inebria. You'll find more information at the Inebria website.
There is also an specific call to facilitate the participation of 10 Indian professionals. Instructions and application form are available at the conference site.
For more information on the conference, please visit the conference website https://www.inebria2020goa.com/  or write to inebria2020@sangath.in
18/12/2019 -New bulletin of INEBRIA Latina
A new bulletin of Inebria Latina has been launched. In this occasion, it is presented the contribution of Yován González and Deborah S. Finnell from the New York City Health and Hospitals and Johns Hopkins School of Nursing respectively on training of health care providers on the detection of substance use, brief intervention and referral to treatment (DIT) through an online program
On the other hand, images are also collected about all the participation of Latin American researchers during the 16th INEBRIA Conference in Lübeck, Germany and the news about the election as co-presidents of two leading researchers, Dr. Maria Lucia Formigoni, of the Federal University from São Paulo, Brazil, and Dr. Dorothy Newbury-Birch, from the United Kingdom.
Finally, resources are offered to improve the skills to publish.
24/10/2019 – INEBRIA CONFERENCE 2019: Supplement proceedings
We are pleased to let you know that the supplement Proceedings of the 16th annual conference of INEBRIA has already been published. The full content of the supplement can be found at https://ascpjournal.biomedcentral.com/articles/10.1186/s13722-019-0157-1
The link to the supplement is permanently accessible via the Supplements link on the article page of the journal website.
14/10/2019 – Welcome to the new two co-president elect of INEBRIA
On the 27th of September, Professor Dorothy Newbury-Birch (Centre for Crime, Harm Prevention and Security, SSSHL Department of Humanities and Social Sciences, Teesside University, Middlesbrough (UK) and Professor Maria Lucia O. Souza Formigoni (Drug Dependence Unit Coordinator, Department of Psychobiology, Escola Paulista de Medicina, Universidade Federal de Sao Paulo (Brazil) were elected as co-president elect of INEBRIA during the Annual General Meeting (AGM) that took place in Lübeck (Germany) during the celebration of the Annual Conference. They are the first women to that will take on the presidential role with INEBRIA. It is expected that this will happen by the AGM that will take place next year in Goa (India) moment in which Professor Sven Andréasson, current president, will finalize his term. During this year they will be part of the coordinating committee and will work together with the current president to facilitate INEBRIA continuity.
30/09/2019 – 17th Inebria conference. Goa (India)
We are pleased to announce that the 2020 17th INEBRIA conference will take place in Goa, India, on September 24-25, 2020 (pre-conference on the 23th) under the title "Setting new directions for brief interventions". The meeting will be organized by Sangath, leaded by Abhijit Nadkarni and his team.
Please, be aware the abstract submission process will be earlier than usual starting by December in order to give time to prepare everything (visa, travel arrangements) in advance to authors once their submissions have been approved.
It will be Inebria's first conference in Asia and we expect everyone's support and participation.
More information here: https://www.inebria2020goa.com/
03/06/2019 -INEBRIA writing buddy scheme
We are glad to inform you that thanks to those that have volunteered to contribute to the buddy system initiative, we are able to move it forward.
Please, bear in mind that it is meant to help non-English speaking researchers to publish in international journals. If you are interested in receiving support, you can apply it by completing the following form.
Inebria secretariat will receive and review all the requests and it will match them to a suitable experienced reviewer according to the areas of interest/research.
For more information, you can contact us: inebria@gencat.cat.
25/04/2019 – Special ASCP thematic series on digital/information Technology (IT) screening and interventions
We are pleased to inform you that Addiction Science & Clinical Practice will launch a special series to focus on digital/information technology (IT) screening and interventions to advance treatment for opioid and other substance use disorders.
This thematic series will highlight in an open-access format articles that address the use of information technology in the prevention and clinical care of people suffering from addiction and in the training and clinical support of health care providers treating addiction. The series will have a particular emphasis on screening and interventions targeting opioid use. Use of IT in addressing alcohol or other substance use will also receive attention.
The series will especially welcome trials evaluating digital screening/interventions, but will also encourage articles across all stages of the research process – from development of the tools through to knowledge dissemination activities.
Funding for the article-processing charge is available thanks to the generosity of the NIDA Clinical Trials Network. This is subject to editorial acceptance and will be offered while funds are available. If you wish to apply for this funding, please contact kyle.adair@biomedcentral.com prior to submission for more information.
link: https://www.biomedcentral.com/collections/addictiondigitalintervention
17/04/2019 -New bulletin of INEBRIA Latina
A new bulletin of Inebria Latina has been launched. In this occasion, it is presented the contribution of participation of Augusto Pérez Gómez from the Corporación Nuevos Rumbos (Colombia) on the brief intervention in schools in Colombia.
In addition, it is also presented an article in relation with he predictors of the effectiveness of the brief motivational intervention to quit smoking in university students carried out by Jennifer Lira-Mandujano, Daniel Pech-Puebla, Eréndira Valdez-Piña and Miguel Ángel Pérez -González of the Universidad Nacional Autónoma de México.
We remind you that the deadline for submission of abstracts for the Inebria conference in 2019 in Lübeck (Germany) has been extended until April 28. You will find more information here.
16/04/2019 – INEBRIA 2019 Conference – Abstract submission deadline has been extended
We are glad to announce you that the deadline for 2019 INEBRIA conference abstract submission has been extended until April 28th. Don't miss the to be involved in the Conference scientific programme by sending your abstract, workshop, and symposium submissions for the INEBRIA conference in Luebeck, September 26-27, 2019!
Registration is open! You can register on the conference website.
For more information: conference2019@inebria.org
1o/04/2019 – INEBRIA writing buddy scheme – would you like to volunteer?
Following the 2018 INEBRIA Conference in Chile, the Inebria Secretariat received extremely positive feedback from a number of Inebria who were impressed at the high level about the important research being undertaken in the field of brief interventions in non-English speaking countries.
To support our international colleagues, it has been proposed to explore the possibility of establishing an INEBRIA writing buddy scheme to help non-English speaking researchers to publish in international journals. It would be set up on a voluntary basis by experienced INEBRIA researchers who have English as their first language and are willing to provide support by editing and reviewing papers before submission to relevant journals in the field.
If you are willing to volunteer to serve as a writing buddy, or would like further information, please do not hesitate to contact us: inebria@gencat.cat.
08/04/2019 –Scholarships for the participation in the Lübeck INEBRIA Conference!
We are pleased to announce that also this year INEBRIA offers four scholarships to attend the INEBRIA 2019 conference.
Candidates should complete the application form at the following link before the 28th of April (note that the regular submission deadline closes on the 14th of April but it will be extended to allow scholarship candidates to submit their abstracts).
The application process for INEBRIA scholarships will be done entirely in English. It is important to include all the necessary information when you submit your application otherwise applications will be not accepted.
Eligible applicants are any professionals with a genuine interest in expanding alcohol screening and brief interventions in their countries. It is important to have an accepted abstract for the Lübeck conference and be a member of INEBRIA. Membership is free of charge and you can apply to join INEBRIA by completing the registration form found on the INEBRIA website.
During this year conference, selected candidates will also benefit from participating in some mentoring activities. More information will be provided after the submission process is closed.
You will find more information about the process and conditions here.
04/03/2019 – The call for abstracts submission for the INEBRIA Conference 2019 is now open!
From now on and until April 14th, you can submit abstracts for the 2019 conference in the form of posters, oral presentations, workshops and symposiums using the forms available at the conference website.
Jennis Freyer-Adam, Jim McCambridge, Per Nilsen, Svetlana Popova and Paul Wallace have been already confirmed as plenary speakers and we are sure they will held splendid presentations on interesting topics such as Brief interventions in and outside the health care system, BI and alcohol policy, Implementation of BI, Bi for preventing FASD and digital approaches to eSBI.
For more information on the conference, please visit the website or write to conference2019@inebria.org
---